VPNtastic's amazing VPN's features
Enjoy true freedom of surfing
We believe in freedom as a human right, however we know that internet access is limited in some places (like schools, corporate networks, some countries, etc.) so we want you to enjoy true freedom of surfing. By using our VPN services, you can bypass all content filters and enjoy the full Internet.

Sometimes it isn't an external block, but we limit ourselves since we know that most websites and Internet services track IPs (the numeric address used to identify every single device connected to the Internet). We allow you to use such services or visit those sites with full confidence as they will never be able to track your real IP.
Read more
Full access to all video websites
Most video and movie websites have content that's only available to some countries (like the USA, UK or Canada). With VPNtastic's services you will get full access to those websites.

Some other sites like Netflix® offer a bigger movie collection to residents of the US, or restrict content to a specific country, like BBC's player. With our VPN you can select which country you'll use to tunnel your connection and gain access to their content.
Read more
Unblock VoIP (Internet phone) or get fair rates
VoIP is blocked in some networks, it can be by government regulations, providers' regulations or network policies. Also, there are some VoIP providers that offer cheaper rates if calls are originated in some countries.

With VPNtastic you can use VoIP without any extra charges, call from your mobile phone, a VoIP device or your computer and get the best possible rates.
Read more
Select your location
You don't have to get on a plane to switch locations, with our VPN service, you can connect from the UK now and switch to Panama in just a few seconds.

There are too many reasons to make your connection "local" to some services. We give you freedom to select your location instantly.
Read more
Anonymous surfing
Would you print your home address, phone number and other personal information in a t-shirt for the world to see? Neither would us. Then why are you displaying your home address to the world when you get online?

Our service is 100% anonymous and doesn't log any activity, therefore your connection becomes completely anonymous.
Read more
Secure your connection in public hotspots
Public Wi-Fi hotspots are found everywhere, however they provide an almost unexistant level of security. This means that all your data could be eavesdropped while using a public hotspot.

Enable your VPNtastic connection and all data is immediately encrypted so no one can sniff it.
Read more
Unblock your access to some websites
Has a website/forum banned your IP? Is a website that you want to access blocking visitors from your country? Are file hosts limiting the number of downloads for your country? Laugh at them!

VPNtastic allows you to switch IP addresses and locations faster and easier than any other provider.
Read more
We support most operating systems and devices
We have built our VPN network with every single user's needs in mind. That's why we support almost every single operating system and internet enabled device.

Please take a look at the full list of supported devices and operating systems, since we're sure that you'll find yours listed.
Read more
Looking for a corporate VPN?

Visit PushVPN.com
Over 100 Locations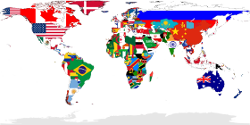 Accepted payment methods